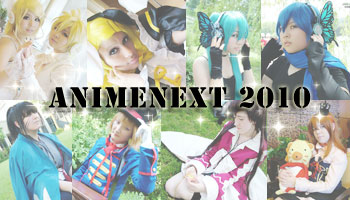 AnimeNEXT 2010 Saturday photos are now updated on the website.
I wasn't really planning to go to this year's AnimeNEXT, so going to the con was my last minute decision.
Hot steamy weather and 4 hour trip didn't stop me enjoying the con.
My experience with AnimeNEXT's shuttle bus was great. There were 2 different shuttle route of train and food running every hour.
This year's Artist's Alley was also impressive. If you had attended the last year's AnimeNEXT, you may have noticed this year's big changes about booth quality and its location. Finally, it was no longer an alley, but definitely looked so much better comparing to the last year's set up.
Oh, I can't continue without talking about cosplayers. Well, I'm seeing that the number of Vocaloid cosplayers keeps growing every year! As usual, most cosplayers were kind and nice when I asked them to pose for the camera.
I'd say that Vocaloid and Kuroshitsuji (Black Butler) cosplay were the main stream, but it was fun to spot the same characters in different versions of outfits.
Many thanks to all cosplayers and I'll see you in AnimeNEXT 2011.
SEE AnimeNEXT 2010 PHOTOS at Cosaru.com Website, Flickr, & YouTube